Electron beam systems
The reliable high-tech processes for your production!
EB welding and drilling technology was introduced to industry many years ago as a reliable means of fabrication. The layout of the type of machine most suitable for you depends on your requirements and applications. Together with you, we will come up with the machine design that matches your tasks.
Steigerwald Strahltechnik is only too happy to pass on its decades of expertise to you.
Within the Global Beam Technologies AG, Steigerwald Strahltechnik is your expert partner for
Chamber machines for universal fabrication
Small chamber machines for fabricating a larger number of items
Drilling/perforating machines, when lots of holes are involved
Continuous welding machines for saw band productions
Solo generators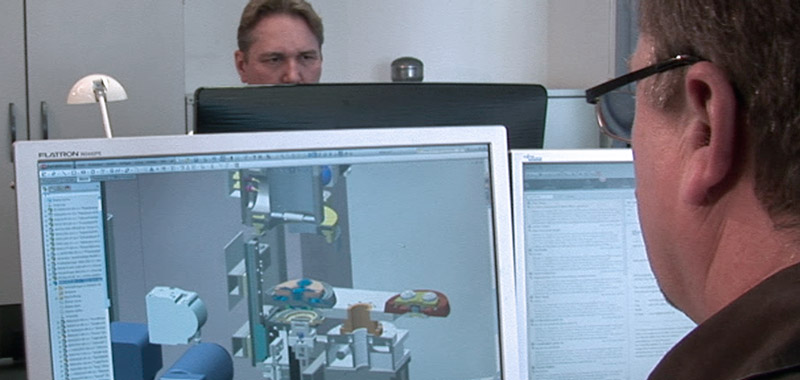 Summary
Chamber machines: Series EBOCAM® & EBODISC
Drilling/perforating machines: EBOPULS series
Metal special strip welding machines: EBOCONT® series
Special EB machines according to customer requirements
Job-shop for drilling/perforating jobs and small numbers of special parts
Worpiece movements: Rotary devices, tilting devices
Tools
Auxiliary equipment
Accessories
Replacement and wearing parts for these product lines
Generators: EBOGEN type 150 kV & type 60 kV
Detailed production data
Mains supply: phase current 3 x 400 V ± 10 %, 50 Hz, PEN (if necessary, a mains supply transformer must be connected between the mains supply at the customer and our machinery)
Lightening earth: < 3 Ohm, 35 mm2
Input power and required power depends on the machine model (electron beam generator power, drive, pump set, ...)
Compressed air: ≥ 6 bar
Cooling water: temperature max. 15 °C, pressure 3 to 4 bar
Ambient temperature +12 °C to +35 °C
Relative humidity, not condensing max. 70 %
Avoid electromagnetic fields near the machinery
Vibration-free installation position (normal factory conditions are sufficient)
Floor loading: max 16 daN/cm2
Electron beam systems are the reliable high-tech processes for your production!


EB drilling proves much more economical when processing work pieces requiring a large number of drilled holes on each component. Some typical examples where EB perforation is applied...

Continuous welding machines
Strip-shaped materials are welded together longitudinally in complete production lines with pre and post welding stations.

Electron beam generators EBOGEN
High voltage EB generators 150 kV
Low voltage EB generators 60 kV