Researching what the world holds in its inmost folds using the electron beam – the CERN Large Hadron Collider.
Steigerwald Strahltechnik has been working closely in partnership with multiple universities and research institutes for many years, including the Forschungszentrum Jülich research center and the Welding and Joining Institute (German: Institut für Schweiß- und Fügetechnik) at RWTH Aachen. Together, they research and develop new processes and applications for EB technology, making them ready for the market.
The electron-beam specialists at SST are particularly proud of their long-term strategic partnership with the European Organization for Nuclear Research (CERN) – the largest center for fundamental physics research in the world.
The center studies the "building blocks of the universe" and how they interact, looking at the structure of matter right down to the inside of atoms. This is made possible, in part, by the world's most powerful particle accelerator, the Large Hadron Collider (LHC) – also referred to in German as the "World Machine" (German: Weltmaschine). Cavity resonators made from niobium or copper are needed to construct particle accelerators. Joining these cavities requires extreme precision and poses very particular challenges for the weld seams; challenges that can only be mastered using electron-beam welding. Together with the specialists at CERN, SST developed a special process for this application that engineers have been able to perfect using the "EBOCAM" electron beam chamber machine. This new process now allows cavities for linear accelerators to be welded from inside using the SST 90° beam deflector "EBOBend". This ensures that the cavity's inner surface is perfectly smooth.
The challenge here were the dimensions: cavity elements with a length of about 1,200 mm have an internal diameter of just approx. 80 mm. The SST "EBOBend" system enters deep into the relevant cavity sections and a special electro-megnetic coil system then deflects the highly efficient electron beam by 90°. This makes it possible to weld joints from the inside, providing for a much higher quality of weld than when welding from outside.
Several universal electron-beam machines from Steigerwald Strahltechnik and the affiliated company PTR Strahltechnik are in use at CERN.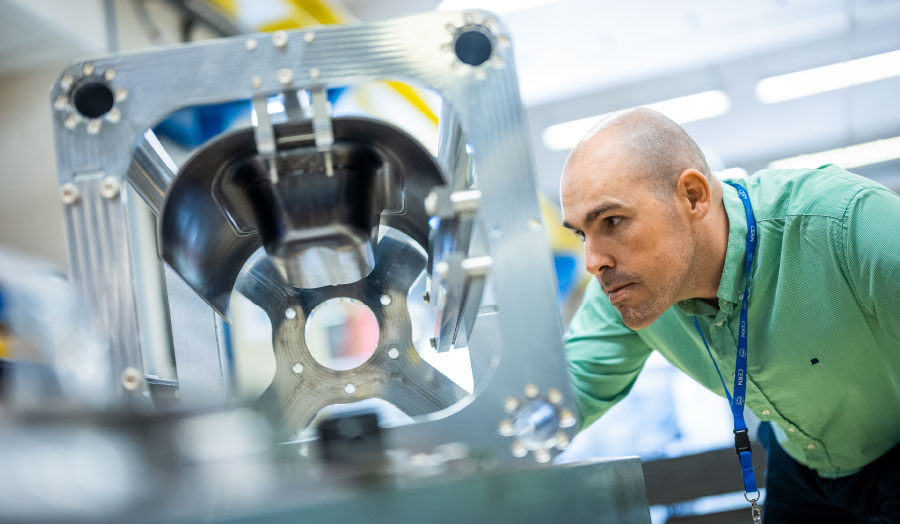 "Thank you very much for your diligent and prompt action. We highly appreciate your responsiveness when we need urgent assistance like today. It's really one of the differential values of SST."
Manuel Redondas, Welding Engineer at CERN