EBOADD, the 3D metal printing process
EBOADD, the 3D metal printing process from Steigerwald Strahltechnik (SST) – a conversation with Dr. Michael Maaßen, the EB specialist's Development Director.
1st question: "Dr. Maaßen, your company has been advancing a new and highly innovative technology for some time, namely the EBOADD process. What exactly is behind EBOADD?"
Michael Maaßen: "EBOADD, or "Electron Beam Additive Manufacturing", is a process developed by SST, which makes it possible to economically and flexibly manufacture highly complex metal pieces in just one process step. To put it simply, EBOADD is a 3D metal printing process in which EB technology enables the layered construction of metal components made from wire or powder-based materials.
A special advantage of this process is that a wide range of components can be produced from weldable materials that would otherwise be very expensive or time-consuming to make with conventional metalworking. For example, this might be the case when the production of individual parts would require the purchase of a new tool set, where such an investment would not be feasible due to the low item count.
2st question: "So this principle resembles that of a 3D plastic printer?"
Michael Maaßen: "The basic principle does, although the process technologies of course differ greatly in their details. During the EBOADD process, molten metal is applied onto a base plate in layers. The first layer is welded onto the base plate and the following are added on top. A wire-feeder pushes the wire-shaped metal into the melting area, where it is melted with an electronic beam.
The additional layers are applied according to a trajectory, or a defined path of movement that reproduces the outside contours of the component. Of course the created contour can also be filled with wire material if needed. The component is constructed vertically with multiple added layers.
If a workpiece produced by this method requires additional machining, the needed machining allowance can be adjusted easily and precisely. Particularly when expensive materials are used, this is a way to optimize the so-called "buy-to-fly" ratio, or the ratio between the used materials and material losses.
3st question: "What is the energy source used for the EBOADD process?"
Michael Maaßen: "A workpiece is constructed in an electron beam chamber machine made by Steigerwald Strahltechnik. This process uses an electron beam as an efficient energy source that is generated through a high-performance generator unit in the ECOGEN series. These EB generators are mobile and enable power flux densities of up to over 107 W/cm2. As I said earlier, the electron beam fuses the raw materials during processing, and this enables the continuous construction. Since the entire process is performed in a vacuum, one of the advantages of this process is that very high build-up speeds can be reached."
4st question: "Dr. Maaßen, you already mentioned that the actual process is performed inside an electron beam chamber machine from Steigerwald Strahltechnik. How flexible is this process in terms of workpiece dimensions?"
Michael Maaßen: "This process uses electron beam chamber machines in the EBOCAM series that are equipped specifically for the EBOADD technique. This type of machine is very flexible when it comes to the possible chamber sizes. An EBOCAM large chamber machine with a chamber volume of 50m3, for example, is perfectly suitable for the EBOADD production of large-volume components."
5st question: "Let's discuss the application areas. Where and in which industries do you see these?"
Michael Maaßen:
We identified the main application areas in industries with a highly technological orientation. In other words, companies or institutions that focus on new key technologies in innovative and future-oriented ways. Here there is a particular interest in getting the technologies, applications and products ready for serial production as fast as possible. This is why designing prototypes in small and very small batch series continues to be the norm.
In such industries as aviation and aerospace, E-mobility, the renewable energies or traditional machine and system construction, the additive EBOADD production technique ensures minimal development times, since innovations can be tested, improved and approved for series production in a shorter period. The EBOADD process gives users optimal design flexibility – new material combinations with new integrated functions are just as possible as the optimization of material properties.
Time and cost reductions play a significant role in new and continued developments. EBOADD can have a positive effect on the overall process here as well: One the one hand, by eliminating expensive tools and with a very good buy-to-fly ratio, and on the other, very short lead times due to the direct data processing from the customer's CAD applications – this enables true prototyping on demand!"
"Thank you, Dr. Maaßen, for your detailed information!"
Dr. Michael Maaßen, the EB specialist's Development Director Steigerwald Strahltechnik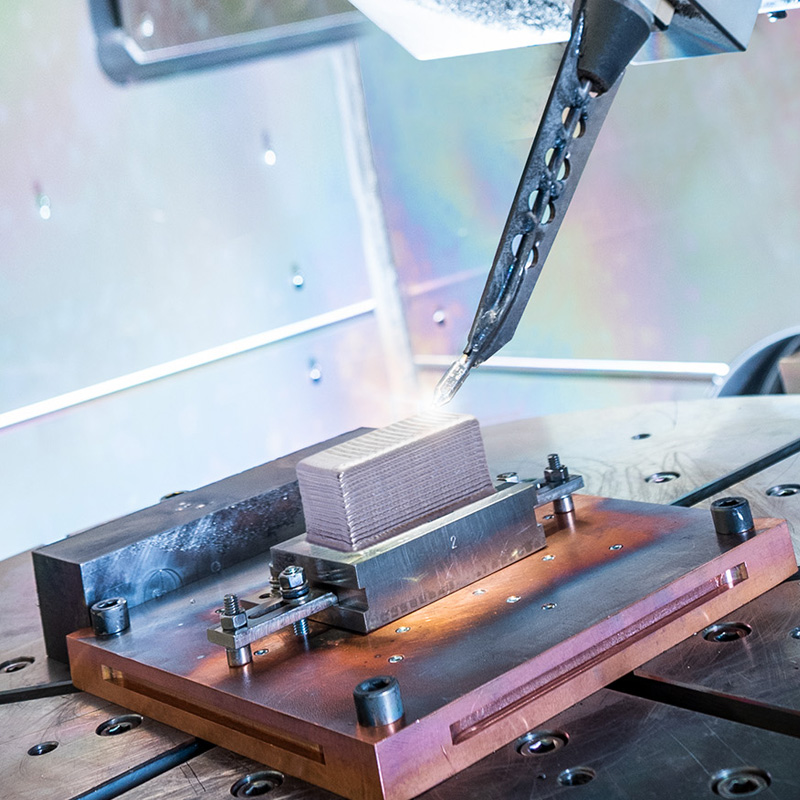 EBOADD-Website